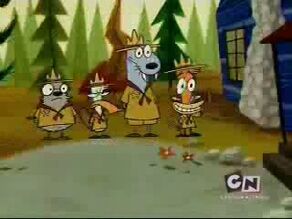 Camp Complain is the 54a episode of the finale season.
Plot
Camp Complain: Slinkman is tired of having to field the complaints of all the campers. To this end, he calls on four of them to hear something important that he has to say. Lazlo, Samson, Edward, and Freddie are called in and Slinkman announces that he wants to make them official Cabin Leaders! Cabin Leaders get to wear cool hats and badges, they get their own leader's lounge with a pinball machine! They just have one job that they have to do: they have to listen to the other camper's complaints and they have to sign a contract promising to never complain themselves. Since the pinball machine is so cool, they all sign on the dotted line. But listening to the campers complain is too much for them, so they try to retreat back to the lounge. Unfortunately for them, the other campers follow them there. Then Edward has a brillant idea that Slinkman said all they had to do was listen to the other camper's complaints, they didn't actually have to do anything about them. So Lazlo, Samson, Edward, and Freddie pretend to listen to the campers complaints and then quickly dismiss them so they can get back to playing the pinball machine! However, the other campers do not like being ignored, so they formulate a plan to teach the four of them a lesson! The next day, when Slinkman asks the four cabin leaders if there has been any complaints and they reply honestly that there hasn't been, Slinkman thinks that the leaders lounge can be shut down since no one is complaining! So they panic and say that they are expecting some complaints soon, so Slinkman relents. However, the Cabin Leaders find out that the reason that nobody has come to them with any complaints is because they've decided to not complain on purpose! And if the cabin leaders want to keep their leaders lounge, the other campers need to complain to them! But will they be able to figure out a way to make them complain?
Trivia
Lazlo, Samson, Edward, and Harold officially become the leaders of their respected cabins.
Notes
Lazlo was actually selfish in this episode, under the influence of Edward though in Lazlos in Love, he was selfish himself.
Quotes
Raj Come Out Here And Listen To Us
Milt Hey Everyone Slinkmans Closing Down The Cabinleader  Club
Edward No Its Not Our Fault
Slinkman Ah Ah Remember You Ca'nt Complain You Signed Oh And I Also Have To Take Down The Clubhouse But You Can Keep Those Heads And Badges