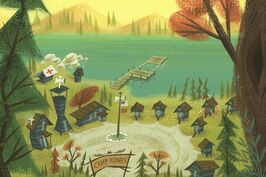 The camp where most of the show takes place. The campers only attend it in the summer. The sign states "Don't steal anything" as you are leaving. The scouts that take residence there are called the Bean Scouts, and the Squirrel Scouts are welcome to visit. Amongst the campers, Camp Kidney is known as the place which has "the coldest showers on earth".
Supporting details are broken snorkeling masks and a broken dock. Camp Kidney was almost shut down in Beany Weenies when Miss Mucus reported it to Commander Hoo-ha, but just as Lumpus was signing the dismissal form, the pencil broke. The population of Camp Kidney is still unknown. Slinkman claims that there are 14[1], but in Parasitic Pal, there are 24 Bean Scouts.
Camp Kidney's Mascot is currently the Duke of Lice (Edward). It formerly had Disco Octopus and Diplomat Duck (explainable either killed or seriously hurt). However, according to the Camp Kidney Alma Mater it is a green bean with a bean scout cap and a neckerchief.
Like any normal summer camp, there are a varity of activities in which the scouts can participate. This list is not exhaustive, but rather some of the more interesting activities at Camp Kidney:
Collecting firewood
Latrine duty
Leaf raking
Dredging Leaky Lake
Tug of war with Squirrel Scouts
Running the Camp Kidney radio station
Being mascot
Kitchen duty, with Chef McMuseli
Running "The Bean!", the weekly camp newspaper, formerly known as "The Weekly Bean"
Secret marshmallow roasts
Quilting
Interpretive Dance
From Where's Lazlo? movie, all the cabins were revealed:
Jelly Cabin: Lazlo, Raj and Clam. Raj originally protested the name, since it's not a "real" bean.
Pinto Cabin: Edward, Chip and Skip
Fava Cabin: Samson, Dave and Ping Pong
Soy Cabin: The Lemmings
Baked Cabin: Norman, Gordon and Ted
Honey Cabin: Fred, Larrison, and Sheldon
Peanut Cabin: Wilbert, Lemuel, and Ignatious
Lima Cabin: Mort, Bill and the maggot scout
Camp Kidney is part of the settings in Fusionfall Universe that also has Numbuh 3 in Level 14, but none of the characters of Camp Lazlo have now been confirmed on the universe, mostly because Camp Lazlo characters have very inactive personalities and have no sense of serious action. Camp Lazlo is very unlikely to appear in Fusionfall Universe.