Clown Camp is the twenty-second episode of season four and the ninety-eighth episode on the series.
Synopsis
Lumpus decides to make every day Clown Day, despite Lazlo's fear.
Plot
It's Clown Day at Camp Kidney and everyone is celebrating Clown Day. Everyone except for Lazlo as it all turns out, Lazlo had a bad experience with Clowns when he was four years old and now he is scared of them. He doesn't want to be anywhere near them. Unfortunately for Lazlo, the news is about to get a lot worse as Scoutmaster Lumpus has decided to make everyday Clown Day at Camp Kidney and to make that possible, every camper has to take a turn being a clown. When it comes to Lazlo's turn, he panics and throws confetti on Scoutmaster Lumpus which turns literally him into a clown! Scoutmaster Lumpus gets angry and ends up on the warpath against him, chasing him all the way up to Slapstick Mountain where the clowns live. But as the clowns watch the chase, Lumpus bumps into a rake, and now Scoutmaster Lumpus is accepted into the clown group. Lazlo feels guilty because now Scoutmaster Lumpus is trapped by a bunch of clowns. And although the moose is enjoying his time now, the enjoyment ends once the clowns discover that Scoutmaster Lumpus isn't a real clown! Lazlo, Raj, and Clam save Scoutmaster Lumpus from death by clowning them when Lazlo tricks all the clowns into literally squeezing into a literally tiny car.
Trivia
It's revealed in this episode that Lazlo is afraid of clowns. when he was young the fake clown drop his clown nose.
The company that made the train that fell on Lumpus licensed by "Murray." This is a reference to the creator of the show, Joe Murray.
This is the last episode from season 4.
Transcript
Click here to go on the Transcript of this episode.
Gallery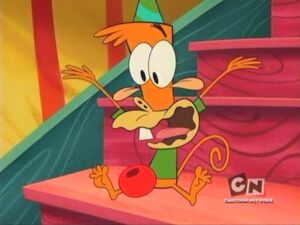 Click here to go on Clown Camp image gallery