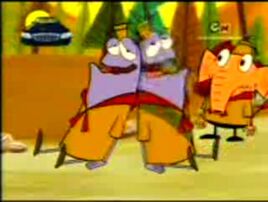 Dirt Nappers is the episode 32b of the middle season.
Plot
The episode begins when Samson gets a new vacuum cleaner and sucks up all of the dirt in camp. Instead of making Camp Kidney clean, most Bean Scouts have gotten injured trying to play outside. Nurse Leslie does a little research and finds out that without the dirt or their flies, Chip & Skip will lay dormant for a century. So the Bean Scouts go over to Acorn Flats to receive their dirt back. In which the Squirrel Scouts will not let them have the dirt back (because it is for their new spa), so Samson and the other Bean Scouts start insulting them including so that way the Squirrel Scouts would throw their dirt at them. Where the spa blows up and dirt flies onto the Bean Scouts. Later they acquire back their dirt and Lazlo orders Samson to never do something like that again.
Trivia
It shows that the Squirrel Scouts have a spa.
Scoutmaster Lumpus Jane Doe Ms Mucas Commander Hoo Haw Chef Heimlich Mcmuesil and Slinkman do not appear in this episode. Except For Nurse Leslie.
Real life dung beetles don't actually go to sleep for a century if deprived of dirt.
Notes
This is the only time any Bean Scout has insulted the Squirrel Scouts.
Quotes
Edward: "That is so ridiculous!"
Lazlo: "You're right, we probably should drop the shenanigans and settle that like grownups.....Attack!!!"

Edward: (disguised as a tree) "I am a poor little tree who has lost his soil..oh that is so ridiculous! Why do I have to be the tree?!" (Gretchen slams the door on Edward's face.)

Samson: (to the Squirrel Scouts) Hey, guess what? You have POOR...FASHION STATEMENT! (Patsy, Nina, and Gretchen become angry) Samson: She's going to blow! (the spa blows up and dirt flies onto the Bean Scouts)

Clam: Animals! (A short pause) Ugly animals!
Community content is available under
CC-BY-SA
unless otherwise noted.