Dosey Doe is the thirteenth episode of season one and the thirteenth episode on the series.
Synopsis
In an attempt to get Jane Doe's attention, Scoutmaster Lumpus allows Camp Kidney hosts a dance, a Shindig Hootananny Hullabaloo, to which the Squirrel Scouts are invited.
An angry Lumpus orders the Bean Scout's to get dressed over the loud speakers. Scoutmaster Lumpus says that there's a lot of work to do, and there will be no slacking off, otherwise giving out demerits. Lazlo decides to see why Lumpus is overworking them. As it turns out, Lumpus is frustrated that his attempts at flirting with Jane Doe have been futile. Lazlo decides he and the Jelly Trio will concoct a dance between the Bean Scout's and the Squirrel Scouts, hoping Jane and Lumpus will socialize. Lazlo sends Raj and Clam to the squirrel scouts so as to invite them to the dance, and that there will be "fireworks" between Lumpus and Jane. The Squirrel Scouts kidnap Raj and Clam and refuse the invitation, as does Lumpus, who insists there will be no dance. After Jane interrupts the Squirrel Scouts, the Squirrels reluctantly agree to join, catapulting them back to the camp, where they exclaim the dance is on. Lazlo decides to help a nervous Lumpus get ready, whereas Raj and Clam try to stall the dance. An awkward slow dance turns into a brawl with angry Squirrel Scouts threatening the Beans. Luckily, Lazlo arrives in time with a rather out of it, lovestruck Lumpus. Jane exclaims she has been looking for Lumpus, causing his head to literally explode. The episode ends with Patsy Smiles punching Lazlo, calling it the worst "Shindootenannebaloo" she's ever been to.
This episode was translated in Spanish and was aired in the middle of the night once. After that, the rerun of this episode is only English.
This Episode is horrible
Goofs:

When Lumpus says "No! No, I can't dance," the bandana around his neck is a lot lower than it usually is.
When the Squirrel Scouts corner Lazlo, Honey is on the left hand side of the screen scowling at Lazlo, but when it shows Patsy angrily talking to Lazlo, Honey is suddenly moved on to another left side of the screen scowling at Raj and Clam. 
When Lazlo announces the dance about to start, and when Raj was on the spot with the microphone, Amber's (The Rabbit Squirrel Scout) skirt is in Bean Scout Colors.
Patsy: And just where do you think your going huh? You wouldn't want to miss the fireworks...
Raj: What do you know about love, Lazlo?
Lazlo: Nothing!
Raj: (as the Squirrel Scouts are walking in) They are pure evil.
Lazlo: Be Mercury Yoko! And send this message to Acorn Flats!
Lumpus: "Oh Slinkman, you're back. I'm sorry for kicking you out the window."
Lazlo: I am one with the canvas.
Patsy: That was the worst shin dootenannebaloo I've ever been to!
Transcript
Edit
Click here to go on the Transcript of this episode.
Gallery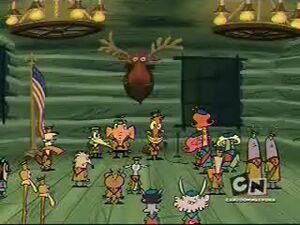 Community content is available under
CC-BY-SA
unless otherwise noted.