Line 6:
Line 6:
 

|cabin = Pinto

 

|cabin = Pinto

 

|family = [[Susan Platypus|Susan]] (Mom)<br>Unknown father<br>Edward's [[Platypus Brothers]] (Cheesly, Alpine, Fancy Pants and Philip)<br>Bucktooth (Grandfather)

 

|family = [[Susan Platypus|Susan]] (Mom)<br>Unknown father<br>Edward's [[Platypus Brothers]] (Cheesly, Alpine, Fancy Pants and Philip)<br>Bucktooth (Grandfather)

−

|voiceactor = Mr. Doug Lawrence

+

|voiceactor = . Doug Lawrence

 

|gender = Male

 

|gender = Male

 

|cabinfriends = [[Chip and Skip]]<br>[[Scoutmaster Lumpus]] (former)<br>[[Slinkman]] (former)

 

|cabinfriends = [[Chip and Skip]]<br>[[Scoutmaster Lumpus]] (former)<br>[[Slinkman]] (former)
---
Revision as of 20:56, 26 October 2018
Edward is the second main villain in the series. He is the youngest son of Susan Platypus. He is voiced by Mr. Doug Lawrence and Hugo Harold-Harrison in The List.
Personality
Edward is more grumpy and tough of Camp Kidney. Edward had his personality inherited from his older brothers. Edward hate Lazlo due the latin monkey not be serious how the others bean scouts.
Gallery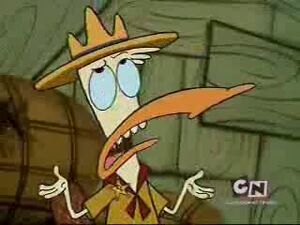 Trivia
Edward is voiced by Mr. Lawrence who also voiced Plankton from the original SpongeBob SquarePants (1999-2004) and Filburt from Rocko's Modern Life which are both shows that the Camp Lazlo staff have made.
Joe Murray said that Edward was one of his favorite characters to write for.
Real-life platypus have brown fur, but Edward's fur is white.
Similar to Rocko in Camp Lazlo's predecessor show, Rocko's Modern Life, Edward is constantly mistaken for another animal, be it a beaver or a duck. This is due to his species having such an unusual appearance.
He is one of the fair few of campers to own two types of boxer-type underwear: red plaid (as revealed in Campers All Pull Pants), and red with white spots (as revealed in Over Cooked Beans).
Edward's family consists of a single mother, because his father never made an appearance. It is unknown that his father was deceased or that he and his mother got a divorce. According with Edward, your father lives traveling for business.
Edward has a personality similar to other Cartoon Network characters. Like Chicken, Mandy, Ophelia Ramirez, Skips, Mr. Gus and Belson.
Edward both resembles Plankton from Nickelodeon's series "SpongeBob SquarePants", Cream the Rabbit from SEGA's video game series "Sonic the Hedgehog", Dexter from "Dexter's Laboratory" and Mordecai from "Regular Show", but in Platypus form.
Camp Lazlo Characters Quick Carousel
Community content is available under
CC-BY-SA
unless otherwise noted.