Handy Helper is the seventh episode of season two and the thirty-third episode on the series.
Synopsis
Lumpus never earned his Handy Helper badge, now he has to spend time with his least-favorite scout Lazlo to complete the requirements.
Plot
While Slinkman was ironing Lumpus' Badge Sash, He realized Lumpus overlooked 1 badge—The Handy Helper Badge. If he doesn't get the badge, Lumpus will get fired and will not go to Grand Legume. So Lumpus tries various attempts but to no avail. But, Lumpus convinces Slinkman to have 2 hours. but Lumpus rather than facing Commander Hoo-Ha, Leaves camp. and While Slinkman Told Commander Hoo-Ha, Lazlo brawled against Slinkman and tries to keep Him from snitching, Lumpus Finally got the badge! but, To everyone's dismay, Commander Hoo-Ha trampled over Lumpus. When Commander Hoo-Ha arrived at camp Slinkman & Lazlo have to tell Hoo-Ha the exciting news.
Trivia
Lumpus has dreamed of being Grand Legume.
Credits: Scoutmaster Lumpus being run over outside the main gate of Camp Kidney by various vehicles.

Edward's name isn't seen in the credits.
Quotes
Lumpus: What badge am I missing?
Slinkman: The Handy Helper badge.
Lumpus: And that means to earn that badge, I'll have to ...
Slinkman: Help someone.
Lumpus: Help someone?! (screams) Nooooo!
Slinkman: What are you doing, sir?
Lumpus: I'm simply too valuable to waste away at this miserable excuse for a camp. The real world needs someone with my can-do spirit, my intellect.
Slinkman: But, sir, why leave when you could just stay, earn your badge, and be done with it?
Lumpus: Because the man knows the real world doesn't need badges or Grand Legume, Slinkman.
Lumpus: Goodbye, Camp Kidney, you old pile of logs. Real world, here I come ... (run over by a truck)'
Slinkman: Sir!
Scoutmaster Lumpus: Just one of the hazards of the real world, Slinkman. Here, a man must pick himself up and ...( has been run over by a ice cream truck)'
Slinkman: Sir, it wouldn't be easier to just earn the badge?
Lumpus: Easier? Yes, Slinkman, but not a man in the real world would do. (run over by a car)'
Slinkman: Yes, but I wonder if you were cut out for the real world, sir.
Lumpus: Cut out for it? Why, tailor made is more like... (runs over by a moped) Ow! That one actually hurt a little.
Slinkman: Please, reconsider, sir. But... (looks back as Lumpus was run over by objects from the "real world")
Lumpus: Slinkman.
Slinkman: Sir?
Lumpus: Okay, who I gotta help?
----------------------------------------------------------------------------------------------------------------------------------------------------------
Commander Hoo-Haw: Will somebody please turn off this blasted, cockamamie tape?! Come on now, don't be a jerk!
Transcript
Click here to go on the Transcript of this episode.
Gallery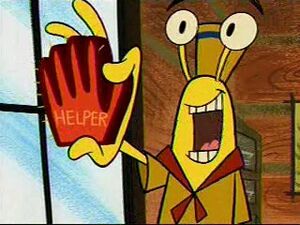 Community content is available under
CC-BY-SA
unless otherwise noted.