Hard Days Samson is the third episode of season three and the fifty-fourth episode on the series.
Synopsis
The Squirrel Scouts go crazy for Samson because he looks like teen idol Hanley Manster (as seen from the new issue of DreamBoat magazine).
The Squirrel Scouts believe that Samson resembles a teen idol. He then tries to hide from the girls, but Edward points the girls in the right direction every time.
It's revealed that Ms. Mucus' first name is Rubella.
Goof:
Contradiction: In many episodes, you recognized that Clam has an irregular strength (e.g. Pulling the trees, Lifting Raj and Lazlo on each hands.). In this episode, Clam is having a hard time lifting Samson.
Listen closely: The song playing as the Squirrel Scouts are chasing after and mobbing Samson is an instrumental blend of two actual Beatles songs, I Should Have Known Better (which appears on the Hard Days Night album from which the episode gets its name), and Eight Days a Week. The title is also a Beatles reference. It is a reference to the song "A Hard Day's Night".
Name: The Star Name Hanly Mamster switch the first letters around and it Manly Hamster.
A running gag in this episode is that the Squirrel Scouts keep mobbing and ripping the clothes off as Samson, as well as Lazlo and later Edward. Also, Edward secretly keeps revealing wherever Samson and Lazlo are hiding to the Squirrel Scouts.
Raj: It's amazing what you can do with scissors, tape, and a picture of Edward!
Squirrel Scouts: Hi Samson.
Patsy: Can we do anything for you?
Samson: Can you put my dandruff back where you found it?
Raj: I'm sorry Samson. I didn't sign up for this. (uses Clam as a drill and they both fall down) Clam: Run away!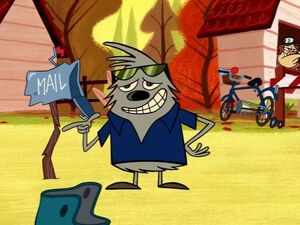 Community content is available under
CC-BY-SA
unless otherwise noted.