Lazlo's First Crush is the fifteenth episode of season four and the ninety-first episode on the series.
Synopsis
Lazlo develops a huge crush on the mermaid of Leakey Lake. And when Raj goes in the lake to give the mermaid a piece of his mind, he falls in love with her too.
Plot
Lazlo and Raj both fall in love with a "mermaid" in Leaky Lake, and compete in various contests to see who's more worthy to be with her.
Trivia
Throughout this episode, Raj keeps saying "dude".
When the cabin is being filled with water, it does not pour out through the windows.
This is the only episode where either Raj or Lazlo falls in love.
Lazlo could have easily just simply walk through the bars as the gaps between them were far too wide to keep him trapped.
This is the last episode where Raj acts selfish in the series..
Quotes
Lazlo: "I'm in love with a mermaid!"
Raj: "That's great, dude."
Raj: "Well, I LOVE HER TOO, DUDE!"
Lazlo: "WHAT?!"
Transcript
Click here to go on the Transcript of this episode.
Gallery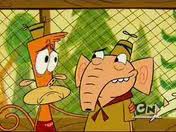 Community content is available under
CC-BY-SA
unless otherwise noted.