Living La Vida Lumpus is the sixteenth episode of season four and the ninety-second episode on the series.
Synopsis
After some convincing from Lumpus, Lazlo starts to dislike Camp Kidney. Lumpus initially likes 'the new Lazlo', but when Lazlo becomes too much like Lumpus, Lumpus consults with Raj and Clam to return Lazlo to his delightful, optimistic self.
Plot
Lumpus convinces Lazlo that the camp is horrible.
Trivia
The title of the episode might be refers to the song Livin' La Vida Loca by Ricky Martin[1]
Quotes
Lazlo (to Edward): Doofus says "What?"
Edward: What? (realizes he's been tricked) Grrr! Real mature, Lazlo.
Raj (to Lazlo): Lazlo what is happened around here you do not like pie and you go drink the disgusting bean juice, but you don't even like coffee
Chef McMuesil: Cream or sugar?
Lumpus: Nope
Raj: See I told you. Now come on.
Lumpus (to Slinkman): You cooled his first! I'm the one who asked for help.
Transcript
Click here to go on the Transcript of this episode.
Gallery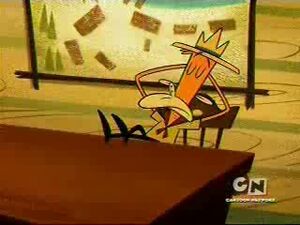 References