Loogie Llama is the sixteenth episode of season one and the sixteenth episode on the series.
Synopsis
The Jelly Beans are down in the dumps because they do not have horses at camp. But one spitfire of a llama will soon change that.
Plot
The Bean Scouts feel lousy because they don't have horses. But that all changes when Lazlo calls in a spitting llama. The scouts are soon reminded that it's okay to be a misfit every once in a while.
Trivia
Lazlo will do just about anything for fresh banana bread.
Spitting is a llama's way of saying "Bug off." Since Spitty spat a lot, we could tell he was not happy with the campers at all.
It revealed that Camp Kidney is poorer that Acorn Flats because of their lack of good food, strong shelter, and protection from ants.
Patsy didn't know about Lazlo's club, even though she pretty much stalks him.
The song on the episode "Loogie Llama" had the same format but different lyrics as the one on the episode Parasitic Pal.
In some versions, when the unicorn on Patsy's shirt screams at the sight of Spitty, a neighing horse SFX replaces the screaming female SFX.
Ending Credits: Lazlo tries to send llama the back to the wild. Spitty kicks him many times until Lazlo falls off the ground. The llama flees.
Quotes
Gretchen: (angrily) Lazlo! (then shaking Lazlo aggressively) We gotta have him!
Lazlo: (straining) Gretchen!
Patsy: Heel, Gretchen!
(Gretchen releases Lazlo)
Lazlo: Ahh..perfect! Instant Unicorn!
Lazlo: What are you doing?
Edward: (Standing next to Spitty dressed up as a rabbit) We have to get rid of this thing.
Lazlo: (To ant.) Awww, I love you! (Patsy's horse steps on it.) AAAAGGGGHHHHH!!!
Edward: Hey, Lazlo! I don't think your mating call went through. Why don't you try saying it louder? (Bean Scouts laugh)
Raj: Uh, Lazlo, I don't know who you called, but I think you dialed the wrong number.
Transcript
Click here to go on the Transcript of this episode.
Gallery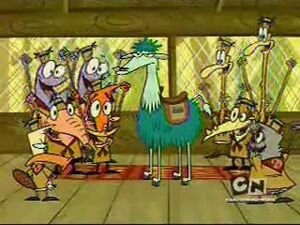 Community content is available under
CC-BY-SA
unless otherwise noted.