Lumpus vs. the Volcano is the eleventh episode of season four and the eighty-seventh episode on the series.
Synopsis
A volcano spirit gets angry at Lumpus when he refuses to sacrifice his chicken pot pie.
Plot
Every year, Bean Scouts (and scoutmasters and their assistants) from Camp Kidney sacrifice their favorite foods to Mt. Blackhead, a volcano that hasn't erupted in over a thousand years. When Scoutmaster Lumpus selfishly refuses to sacrifice his favorite chicken pot pie, Slinkman and Jelly Cabin have to get it away from him and throw it into the volcano so it won't erupt.
Production Music
Reckless Rufus - Jerry Burnham, Stephen Wade, and Tom Layton
Link Y - Patricia Cory
Clown's Walk B - Otto Sieben
Baby Elephant - Dick Walter
Glissando (G) - Skaila Kanga and Richard Myhill 
Think Bubbles 4 - Keith Papworth  
Red Alert [#8] - Harry Bluestone and Emil Cadkin
Link (C) - Patricia Cory
Hide and Seek - Harry Bluestone and Emil Cadkin 
Fight for Ol'Schaefer U. - Will Schaefer
Ballet Shoes - Harry Bluestone and Emil Cadkin
Shock Horror (A) - Dick Walter 
Happy Tuba - Richard Myhill 
From The Dead - Ronald Hanmer
Ho, Ho, Ho! - Dick Walter
Link (U) - Patricia Cory
Happy Tuba - Richard Myhill
The Creature (A) - Gregor Narholz
Drama Builds - Harry Bluestone and Emil Cadkin
Adventure Fanfare 3 - Harry Bluestone and Emil Cadkin 
Dramatic Cue (B) - Ronald Hanmer
Cellar Search - Philippe Pares
Link (M) - Patricia Cory
Link (O) - Patricia Cory
Wild Eyes - Ronald Hanmer
Wild Panic 30 - Gregor Narholz
Heroes Win 60 - Gregor Narholz
Twilight Zone - Harry Bluestone and Emil Cadkin
Happy Go Lively - Laurie Johnson (Credits Scene)
Trivia
It's shown on this episode the favorite foods of some of the Bean Scouts:

Raj = Marshmallows (but in the episode "Float Trippers," Lazlo says that his favorite food is peanut butter and pickle sandwich).
Samson = Chewable vitamins.
Chip and Skip = Envelopes (for the glue you have to lick).
One of the loon twins = Pizza.
Edward = Submarine Sandwich.
Lumpus = Chicken pot pie.

First time that Lazlo, Raj and Clam have ever appeared on TV (within the show).
Harold appears naked for the first time in this episode.
Credits: Lumpus waiting impatiently for his turn in the grocery store line.
Quotes
Transcript
Click here to go on the Transcript of this episode.
Gallery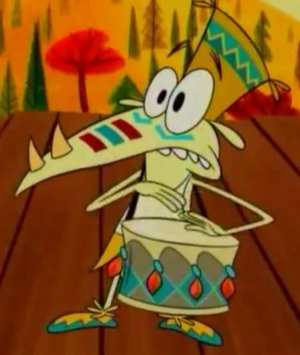 Community content is available under
CC-BY-SA
unless otherwise noted.