Samson's Mail Fraud is the seventeenth episode of season four and the ninety-third episode on the series.
Synopsis
After Samson gets picked on for not having friends outside of camp, he makes a lie about getting letters from a famous magician.
Plot
Samson lies about Presto, a famous magician, being his friend, to impress the other Bean Scouts. But when Samson discovers that Presto is coming into Prickly Pines to perform for one night only, he knows he has to try to get Presto to come back to Camp Kidney with him or else the campers will know he's been lying to them!
During the show, it was going great until Mr.Buns tries to make a piece a paper on fire, but didn't work. This made Edward angry and told him he is not Presto, and reveals that that was Mr.Buns much to the campers shock. They all scold at Samson for lying to them and Edward thinks that Samson doesn't know Presto. Just as Samson was about to say something a limo comes up it was Presto, and he knows Samson.
Trivia
Third time that Lazlo has done something nice for Samson that didn't end up hurting him or caused him any discomfort. The first two times were in Award to the Wise and Cave Chatter.
Not only is it revealed that Samson can perform magic tricks in this episode, but he also teaches many of the other Bean Scouts how to do magic tricks as well (albeit off-screen.)
Second time Edward squeals like a girl. The first time being in the "Book Of Slinkman."
Only appearance of Mr. Buns and Presto
Quotes
(The bean scouts are irked because they can't wait for their mail)
Lazlo: (yells Samson annoyed) COME ON SAMSON!!. (Also knocks the door annoyed) IF YOU OPEN UP, SO ALL WE CAN GET OUR MAIL. PLEASE!!
Samson: Alright!! I'm doing a little paperwork here!! (Samson does a magic trick with a paper, which goes poof) Alakazam, Alakagoof, Alaskajim. Paper go poof. (Realizes the trick) TA DA.
Edward: (yelling annoyed too, like Lazlo) Come on. (On-Scene) We know that you're practicing your lame magic tricks in there. (Off-Scene) Open Up.
THIS SCENE EDITED DUE TO THE GRAPHIC NATURE OF SAMSON'S GUT-WRENCHING HEARTBREAK.
Transcript
piEpisodeNavi
Gallery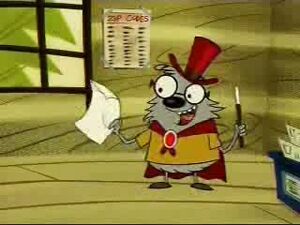 Click here to go on Samson's Mail Fraud image gallery