The Big Weigh In is the second episode of season three and the episode on the series.
Synopsis
Lumpus is misled to believe he is 35 pounds underweight, leading him to go on a hunt for a lard-a-doodle bird.
Lazlo tries to save an innocent Lard-a-doodle bird from being eaten by Scoutmaster Lumpus.
Credits: Chip and Skip plant rubber gloves in the hopes of growing a rubber glove tree, but instead grow a stethoscope tree.
Clam calls Scoutmaster Lumpus Larry, which is a likely callback to The Big Cheese.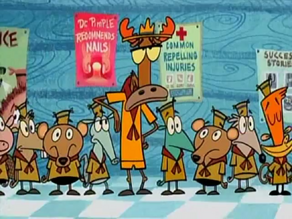 This episode was also produced in widescreen. In full screen, if you stop at the first frame before Lumpus says "Come on already!", it is a 16:9 aspect ratio squished to fit the 4:3 aspect ratio.
Lazlo and Raj: Scoutmaster Lumpus!
Clam: Raging carnivore!
Lumpus: Arrggh!!! Must eat fuzzy animals!!!!
Lumpus: (singing) He'll be coming around the mountain when he comes! And I'll serve you up with biscuits when you're done! Yeehaw!
Clam: Push lard!
Raj: Lazlo?
Clam: Larry?