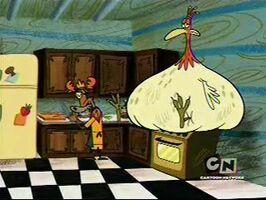 The Big Weigh in is the episode 28a of the middle season.
Plot
Lazlo tries to save an innocent bird from being eaten by Scoutmaster Lumpus.
Trivia
Credits: Chip & Skip tell Edward that they are growing a rubber glove tree, but instead, a stesthoscope tree comes out of the ground. They walk away.
Notes
The Big Weigh In: Near the end, Clam calls Scoutmaster Lumpus Larry, like in the episode "The Big Cheese". Goof:in the line,when we see lumpus,there was two bears
It's learned in this episode that Lazlo weighs 35 pounds, and a healthy weight for an adult moose is at least 500 pounds.
Lazlo has brown hair, brown eyes, and weighs 35 lbs.
Community content is available under
CC-BY-SA
unless otherwise noted.