The Haunted Coffee Table is the eighteenth episode of season four and the ninety-fourth episode on the series.
Synopsis
Slinkman and Raj confront a haunted coffee table.
Plot
Slinkman, after hearing a scary story by Raj, is convinced his coffee table is haunted. So for security purposes, he has Raj sleep over with him. But when Slinkman and Raj discover his coffee table really is haunted, can they discover the reason for why it is haunted and make it so the spirit of the coffee table can rest in peace?
Trivia
This is the last episode when the campers tell horror stories in the campfire.
Credits: In a fast-paced montage, Raj and Slinkman are seen rearranging the furniture in Slinkman's room. When they are done, Slinkman congratulates Raj on a job well done, but Raj notices that Slinkman is wearing a maid's outfit. When Slinkman sees Raj looking at him funny, he says that he will change out of it.
Goof: In the firewood scene, Dave appears, but suddenly he disappears and when he comes back when he said "Coffee Table?"
Transcript
Click here to go on the Transcript of this episode.
Gallery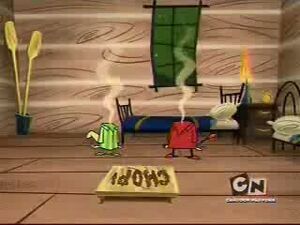 Click here to go on The Haunted Coffee Table image gallery