The Weakest Link is the ninth episode of season one and the ninth episode on the series.
Synopsis
When Commander Hoo-Ha announces the annual camp inspection, the rest of the scouts cook up a plan to keep Lazlo, Raj and Clam out of camp. But since Lazlo is the only one that can start fire they must get him back or else no clean underwear for another year.
Plot
Commander Hoo-Ha is coming for an inspection at Camp Kidney. But Edward orders Lazlo, Raj and Clam to find a rock "that's about to go extinct" so the whole camp won't fail inspection. Lazlo, Raj and Clam return with the endangered rock, but Lumpus, having replaced the missing campers with potato sack dummies, is about ready to beat up Lazlo, Raj and Clam for a false alarm, only to be stopped by an angry Commander Hoo-Ha, who accuses Lumpus of letting the kids wander out of the camp and places Lumpus in charge of the rock's care.
Trivia
Lazlo is the only one at camp who can start fires.

This marks the very first time that there are no Squirrel Scouts or other female characters.
Goof: when Samson and Edward are arguing which way the camp is, Edward's eyes temporarily turn white.
The Big Hairy Mountain Man is a parody of Cookie Monster with the voice of Eduardo (from Foster's Home for Imaginary Friends, Tom Kenny, both one and the same).
Listen closely: When Clam walks on the rocks upside down when Raj was whining. The sound is the same squeaky sound that Spongebob makes when he walks.
This is Commander Hoo-Ha's first appearance on a Camp Lazlo episode; his first overall appearance on the series.
Quotes
Raj: What are we going to do? I inflamed the map...
Lumpus: (nervously to commander Hoo-Hah) But my campers are right here... (points to a bunch of rag dolls with hats sitting on a log)
Dave: Who knew that bear would be attracted to the meat flavored lip balm in my pocket?
Ping Pong: I wish we had that lip balm for breakfast.
Samson: That way!
Edward: That way!
(The night falls as Samson and Edward continue arguing about which way back to camp)
Samson: That way!
Edward: That way!
Samson: That way.
Edward: That way. You're probably right. It was that way.
Raj: Oh this is nice you guys are very civilized. 
Clam: Like hot tub like hot tub 
Big Hairy Mountain Man: Do you like Big Hairy Mountain Man massage?
Transcript
Click here to go on the Transcript of this episode.
Gallery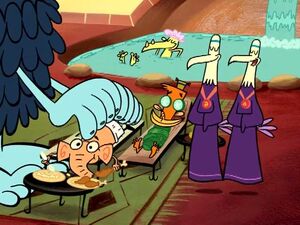 Community content is available under
CC-BY-SA
unless otherwise noted.