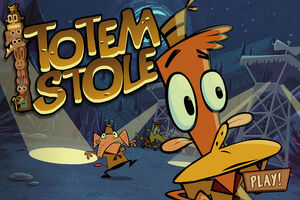 Totem Stole is a online flash game that can be played on Cartoon Network and various website. The goal of the game is to retrieve the stolen jelly bean's totem pole from the squirrel scout's camp.
About the Game
Battle the Squirrel Scouts and sneak into Acorn Flats to get the totem pole back.
How to Play
Use the arrow keys to rotate Lazlo and block the Squirrel Scouts' pine cones.
Use the spacebar to shoot acorns at the Squirrel Scouts, but stay alert they could pop out everywhere!
Collect Health and Acorns, but avoid traps along the way!
Play the Game
Quotes
Lazlo: Oh no! This is terrible!
Lazlo: The Squirrel Scouts stole our Totem Pole!