Tree Hugger is the eleventh episode of season one and the eleventh episode on the series.
Synopsis
The Jelly Beans try to convince Scoutmaster Lumpus not to chop down a rare tree called the Migrating Mulberry Tree.
Lumpus when they he try to catch the elusive "Migrating Mulberry," a wandering tree that only visits the region once every 100 years.
When Lazlo is reading about the "tree-be-gone" ritual, he's holding the book upside down.
Goof:

In the beginning of this episode, when Lazlo, Raj, and Clam all say "It's not?" in unison, Raj's mouth does not move.
When Lazlo takes off Lumpus's hat to put on the tribal hat, his head is rounded instead of bumpy as usual.
When Scoutmaster Lumpus is marrying the Migrating Mulberry Tree, behind Lazlo, Samson looks normal. However, on one shot, he looks different.

Lazlo's Tree-Be-Gone Ritual:

Holding two twigs for a long time.
Drinking a mixture of pine cone eggs and rock milk.
Hitting the sweat lodge.
Jump off the dock into Leaky Lake.
Dance on hot coals.
Throw all saw, axes, and other power tools into Leaky Lake.
Wear a blindfold.
Marry the migrating mulberry tree.
Clam: Murderer!!
Lazlo: Now repeat after me. I am a tree.
Lumpus: I am a tree.
Lazlo: Tree, tree, tree!
Lumpus: Tree, tree, tree.
Lazlo: Goodie for me!
Lumpus: Goodie for me.
Lazlo: Wait here.
Lumpus: Wait here.
Lumpus: All around the Mulberry tree, the moose chases the monkey.
Slinkman:Uh Sir, since it's the final one of its kind maybe you might not wanna chop the ...
Lumpus:Slinkman, if you don't help me with this, I'll take away Mr. Squishy again. (Slinkman's eyes retract)
Scoutmaster Lumpus: Lazlo, look what you done, you scared it away!
Lazlo: I love you, Sir.
Scoutmaster Lumpus: Oh, thank you, Sir, I... Oh, no you don't!
Transcript
Edit
Click here to go on the Transcript of this episode.
Gallery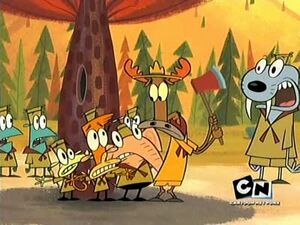 Community content is available under
CC-BY-SA
unless otherwise noted.